Markforged Introducing 3D Printed Inconel 625
Inconel 625 as the newest material is available for the Markforged Metal X system. Below are more information on what Inconel 625 is, the industries it's best used for, as well as its applications.

 What is Inconel 625?
Inconel 625 is a nickel-based superalloy that is highly resistant to corrosion and high temperatures. The strength of Inconel 625 is not compromised by multiple heat cycles, and it can withstand temperatures up to 1000°C. Traditionally, Inconel 625 is an extremely expensive material to use, however the Metal X system now allows manufacturers to take advantage of this material at a fraction of the typical cost.

 Industries and Applications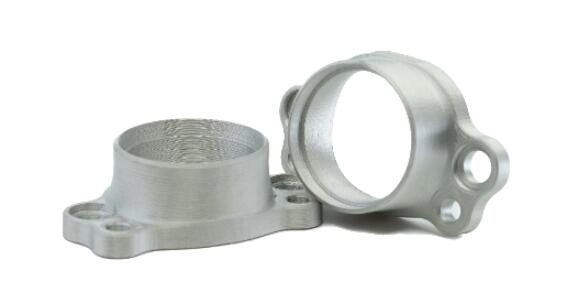 3D printed manifold in Inconel 625
Inconel 625 really shines in environments where there are high temperatures, corrosive environments, and rapid temperature changes. Relevant industries include chemical/power processing, aerospace, automotive, and seawater or offshore oil and gas.
Chemical/Power Processing
The chemical and power processing industries need materials that are able to handle both high temperatures and a wide variety of chemicals. Waste-processing systems require materials that have resistance to both oxidizing and reducing acid solutions. Inconel 625 is the perfect material for this type of environment, due to its ability to withstand chemicals and perform at high temperatures.
Aerospace/Automotive
The aerospace and automotive industries have been taking advantage of Inconel's properties as well. The high temperatures in engines and corrosive environments suits Inconel perfectly for many different applications.
Seawater/Offshore
Seawater systems are highly corrosive environments that will destroy even the strongest materials. Inconel 625 showcases extraordinary resistance to sodium chloride at a variety of temperatures. The material is perfect for wire rope and propeller blades that are used in underwater applications.

 Case Study: Nieka Systems
3D printed Inconel 625 crucible clips
Nieka Systems creates sample preparation equipment that enables their customers in the mining and cement production industries to analyze and ensure quality in their manufacturing processes. Their automated machines heat up ore or cement samples along with fusion flux to temperatures of up to 1000°C, and then cool them down to room temperature to produce glass discs. The company previously outsourced Inconel crucible clips to third parties, but the costs started to add up. While Inconel 625 was the perfect material for the crucible clips, the high costs and long lead times led Nieka to look for a solution elsewhere.
Nieka turned to the Metal X system to reduce costs, and have now reduced their lead time from four weeks to four days. The team has been able to seamlessly implement design changes and improve the quality of their clips, which can withstand repeated and rapid temperature cycles. Nieka Systems has saved roughly $108,000 CAD (~$80,000 USD) within a year, and has reduced lead times from four weeks to four days.
Markforged's Metal X system offers some of the most groundbreaking materials in 3D printing, including 17-4 PH Stainless Steel, A2 Tool Steel, D2 Tool Steel, H13 Tool Steel, and now Inconel 625. Reach out to Markforged to learn more about how Inconel 625 can transform your manufacturing processes and your product.
Source: Markforged