Palo Alto Research Center [PARC] selects AlphaSTAR's GENOA 3DP, for Additive Manufacturing Simulation
October 20, 2020, AlphaSTAR Corporation announced their additive manufacturing (AM) simulation solution, GENOA 3DP, was selected by Palo Alto Research Center (PARC), a Xerox Company, to be used on the Advanced Research Projects Agency–Energy's (ARPA-E) DIFFERENTIATE Program.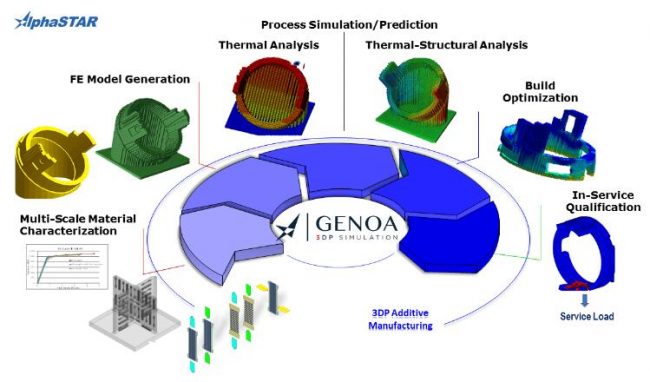 Image via AlphaSTAR
DIFFERENTIATE (Design Intelligence Fostering Formidable Energy Reduction Enabling Novel Totally Impactful Advanced Technology Enhancements) seeks to facilitate rapid design and improvement of 3D printed parts for turbomachinery applications. The program's goal is to accelerate the timeline of 3D print to validation, eliminating one of the largest barriers to more widespread adoption of AM technology.
The collaboration between PARC and AlphaSTAR aims to create a virtual additive manufacturing approach that will save both time and materials. AlphaSTAR's predictive simulation technology maps temperatures through the thickness of the parts, calculating residual stresses, strain, deformations and curvature. PARC's topology optimization software optimizes material layout. The combination of the two allows PARC engineers to quickly tweak virtual models to improve and make printed parts more lightweight.
"One of the biggest challenges in design for metal additive manufacturing is ensuring that the part can be fabricated in a reliable and cost-effective way," said Saigopal Nelaturi, Research Director at PARC. "GENOA 3DP can help predict and plan for factors that affect the fabrication process, like residual stresses, which will help improve the design process for turbomachinery parts. We are very excited to collaborate with the AlphaSTAR team to solve real-world problems in design for additive manufacturing."
"There is an excellent synergy in the vision of both companies to be on the tip of the spear when it comes to innovative solutions", says Dr. Rashid Miraj, Director of Technical Operations at AlphaSTAR. "We are delighted to be working with PARC and their partners on this novel program that addresses the real-world Industrial needs as they relate to Metal AM".
Source: AlphaSTAR