Forecast 3D Reaches 1 Million Nasal Swab Milestone for COVID-19 Testing
1FORECAST 3D, a GKN Powder Metallurgy company, announced this week that production is ramping up and will reach more than 1 million of its nasopharyngeal (NP) swabs shipped for use in COVID-19 test kits by next month.
FORECAST 3D launched the swabs last month after spending about six weeks rapidly developing a manufacturing solution. FORECAST 3D can mass produce up to 100,000 swabs per day using its fleet of industrial-grade HP Jet Fusion 3D printing systems.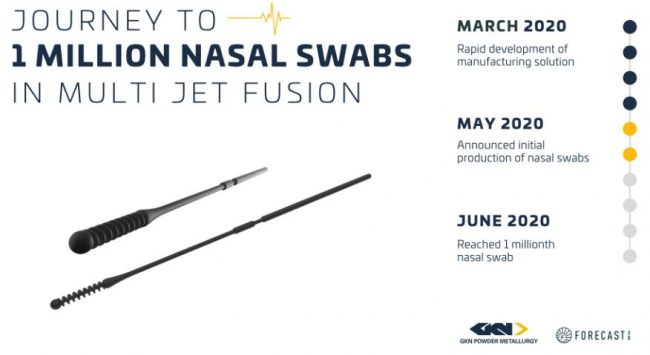 "With more than one million swabs ordered in just a month, it's clear there was a need for healthcare and testing facilities to quickly get these critical supplies," said Ken Burns, Commercial Vice President at FORECAST 3D. "We are proud to have been able to use additive manufacturing to quickly adapt and scale production to serve this need."
For initial diagnostic testing for COVID-19, CDC recommends collecting and testing an upper respiratory nasopharyngeal or oropharyngeal specimen. The nasopharyngeal spiral swab design was selected from 150 designs evaluated in expedited clinical tests. The swab designs were evaluated for patient sensitivity, ability to collect sufficient viral fluid, comfort, and breakpoint reliability.
"As a leading 3D parts provider, FORECAST 3D is responding to the urgent need for test swabs in a massive way," said Philipp Jung, global head of end-to-end solutions, HP 3D Printing and Digital Manufacturing. "COVID-19 has exposed the disruptive benefits of 3D printing and Forecast 3D is leveraging our optimized HP swab design as well as the speed, quality and flexibility of HP's advanced 3D printing solutions to meet the ongoing demands of the pandemic. The collaboration demonstrates the power of new ecosystems and the impact of distributed manufacturing."
The swabs are available in bulk to healthcare and testing facilities nationwide.
Source: GKN