3D Printing News From Formnext 2019 Graded
Here is a list of all major announcements, product launches and other news and disseminated them for your ease of reading and graded them for reality and relevance
With the hindsight of all the exhibitions and launches finished, it's disseminated the announcements from some of the biggest names in 3D printing, dug out the bits that are actually useful, and graded the stories accordingly.
Grading explained:
A = Shut up and take my money
B = New, interesting and definitely worth keeping an eye on in 2020
C = New announcements, but nothing worth fighting a bear over just yet
D = As you were, things are chugging along as normal over here
E = Nothing to see here

 A+
6k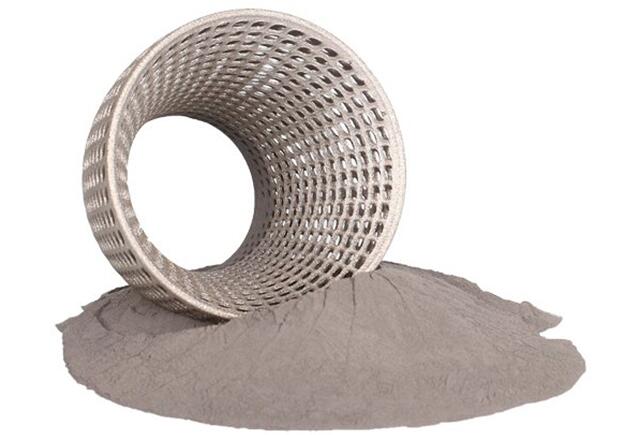 Image via DEVELOP3D
By using a combination of its UniMelt microwave plasma platform and in-house Alloy Reclamation technology, 6K has launched its new 'best-in-class' additive manufacturing powders.
The ability to reclaim materials and process almost any type of metal, alloy, or ceramic feedstock – including machining swarf, 3D printed support material, or botched prints – into premium powders means that any alloy that is currently capable of being machined has the potential to become powder for additive manufacturing.
The microwave manufacturing method reportedly uses less energy than traditional processes, and the particles are also smoother and more spherical.
On top of this, it has the ability to create high-entropy alloys at a scale beyond lab testing – allowing for incredible new material benefits.
Dyndrite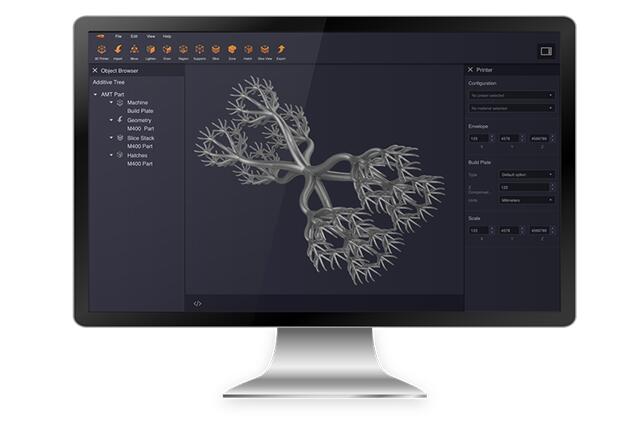 Image via DEVELOP3D
First thing to note is that Dyndrite has developed its own geometry kernel – it's not messing about.
This allows it to use GPU-powered technology to directly import native CAD files (or the most complex STLs) and output to any 3D printing process.
It uses CAD splines and metadata to improve the speed and quality of the workflow and this is passed directly into the printed parts.
It's fiercely effective, using all your computer's hardware power to get a job done better and faster, all the while packaged in a UI that's easy to understand and work through.
If you want more, then applications can be built and customised using both C++ and English-readable Python APIs, making application development more accessible to users.
Oqton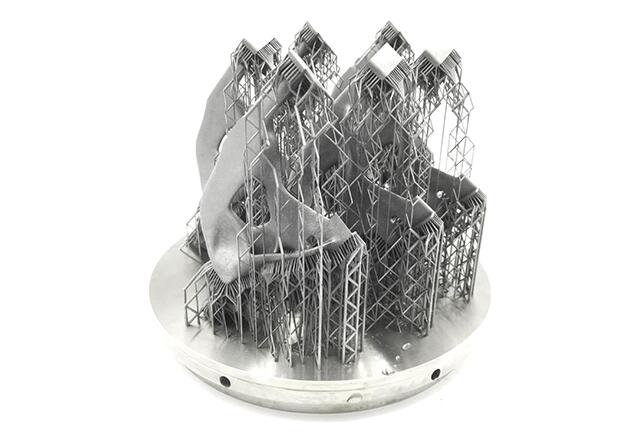 Image via DEVELOP3D
Oqton drafts in Artificial Intelligence (AI) to make its fast cloud-based technology sing.
It can act as a simple build processor, but is also able to connect all your prototyping and manufacturing equipment through IIoT, and offer a full, closed loop system.
On the shop floor, Oqton will blow minds with its ability to nest parts in layers using topology optimised support structures – its SLS output is able to cram in the most parts we've ever seen.
Yet, its best trick is the AI's ability to learn from your best machine operators, remembering all that stored-up knowledge and then finding ways to improve on it.

 A
MSC Software
Image via DEVELOP3D
MSC unveiled its latest generative design software, MSC Apex Generative Design. This recently acquired German start-up might be in the early stages, but already its roadmap has taken shape.
Once fully fledged it will have the ability to take in simulation from across MSC's parent company Hexagon's portfolio.
Expect materials and composites data from Digimat; Simufact's metals process simulation software, and even links to systems simulation tools like Adams.
Add on the QA of printed parts with Hexagon's latest acquisition, Volume Graphics, and it makes for a fully stocked arsenal.
Ntopology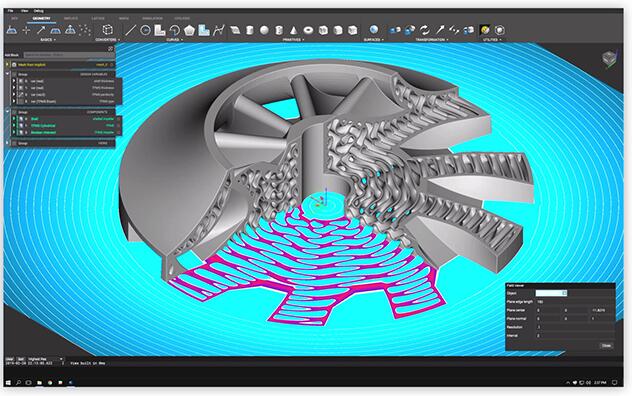 Image via DEVELOP3D
The latest version of Ntopology's computational modelling platform shows the product is maturing at speed.
nTop Platform 2.0 includes pre-packaged light-weighting, architected materials, design analysis, topology optimisation and additive manufacturing toolkits and allows users to create their own proprietary toolkits.
We spoke to several users that love the tools for playing with geometry, performance and manufacturability of parts simultaneously, and the brand as a whole looks set to have another year of forward momentum in 2020.
Tethon 3D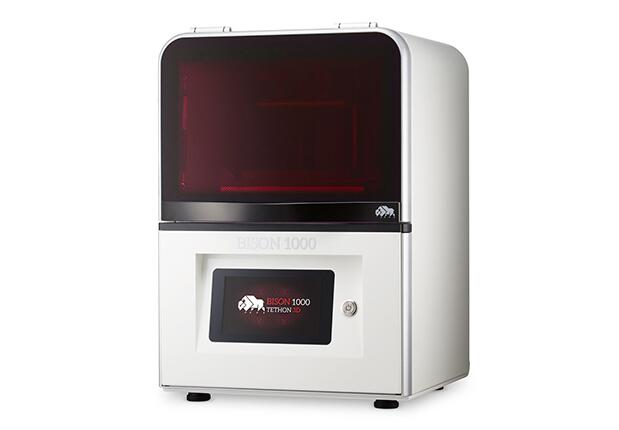 Image via DEVELOP3D
This desktop ceramics printer from Tethon 3D is the ideal testbed for anyone wanting to delve into 3D printed ceramics.
The Bison 1000 is a desktop DLP 3D printer, with a 110 x 60 x 138mm build area, that costs $16,500, put together with one purpose in mind: printing resin-based ceramics, and letting you experiment.
Tethon's own materials line-up provides enough to let anyone start printing ceramic parts, but it's the Genesis base resin that allows users to experiment with varying combinations of Tethon's powders – and your own concoctions – to create new materials for printing.

 B+
Desktop Metal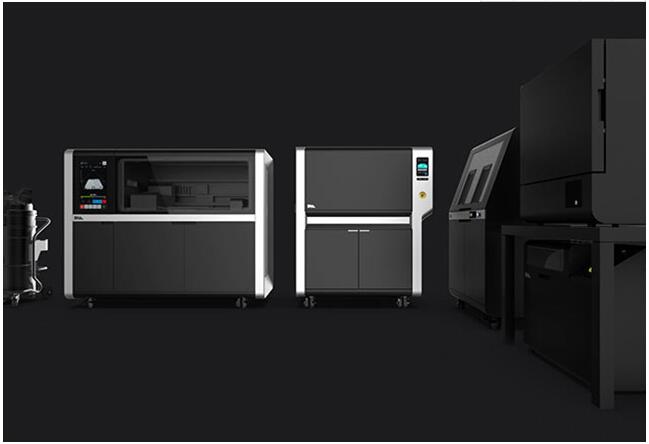 Image via DEVELOP3D
Desktop Metal launched two portfolio additions, although nobody really thought we'd see one of those after all the courtroom hijinks with Markforged: adding continuous fibre printing to the family.
Fiber, despite its Americanised-name, is a lovely looking thing with all the typical Desktop Metal design touches, but on top of that the parts can be fine-tuned due to the a robotic tool changer, and it built to be arranged in print farm configurations of 6 or 10 printers.
Our key doubt was that the technology might be overkill for parts fitting its 310 mm x 240 mm x 270 mm build envelope, but the technology is (quite excitingly) scalable due to its innovative printhead and materials.
On the metals-side of the business, Desktop Metal launched its Shop System, as it looks to plug the gap between its office-friendly Studio set-up and the big daddy Production System.
Containing all the kit you'll need from print through sintering, and with an adjustable range of build volume configurations (4L, 8L, 12L, and 16L) to fit the necessary throughput.
HP 3D Print
Image via DEVELOP3D
HP presented the world with the news that it 3D printed 10,000 models of Volkswagen's ID.3 electric car to present as gifts to the models' first customers. So what's impressive about that?
On the face of it, it's nothing but a ditzy bit of marketing, but then you speak with HP and VW's partner in the project: GK Additive. The company brought in its production knowledge for scale manufacturing, QA and ensured that each tiny little car was produced as a production grade metal parts – even down to their production serial numbers.
Churning out 10k of them is quite remarkable when even the most minor defect meant the part was scrapped – putting this into perspective as a full-on trial run for VW.
Add on the news of HP's impending 'pay-by-the-bin' subscription service to be launched in 2020, and the Silicon Valley veterans are going harder at the metals business than perhaps anyone had previously expected.
One-Click Metal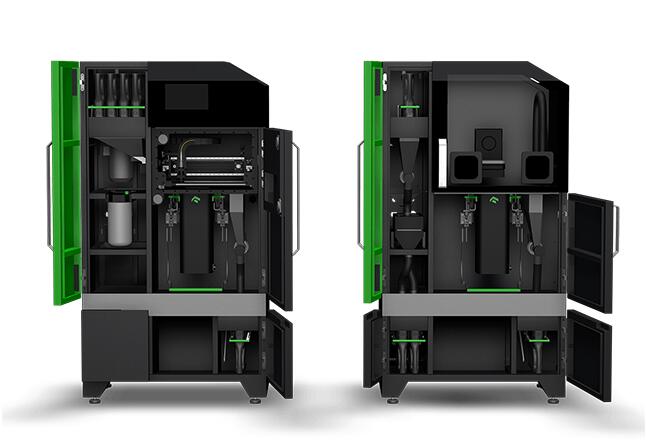 Image via DEVELOP3D
The click is sadly not a magic big red 'PRINT' button, but instead it describes the novel materials cartridge system for One-Click Metal's SLM 3D printer.
This start-up caught our eye with it's future-focussed printer and support removal unpacking station. With a 100W laser and 150 x 150 x 150mm build plate it's not going to trouble the scaled-up, mass production heavyweights, but it does feature a number of touches that make it a potential in-house prototyping/batch production favourite.
The four cartridges hold a 250% oversupply of the build volume, and are negate the need for coveralls, breathing apparatus and in-depth training costs, all well under the $100,000 mark.

 B
Altair
Image via DEVELOP3D
Altair's latest product, Inspire Print3D, was an eye-catching take on the company's experience of topology optimisation in the design stages, and applying the appropriate design rules for each manufacturing method.
Not confined to additive manufacturing processes, conventional casting and machining data were also fed into the software, altering the shape of the design accordingly and automatically.
A demo table showed the variations of a concept motorcycle swingarm designed using different technologies, and it really hit home the point that topology optimisation isn't only for those making high-value parts using high-cost methods.
It'll be interesting to see how this product evolves in 2020.
AMT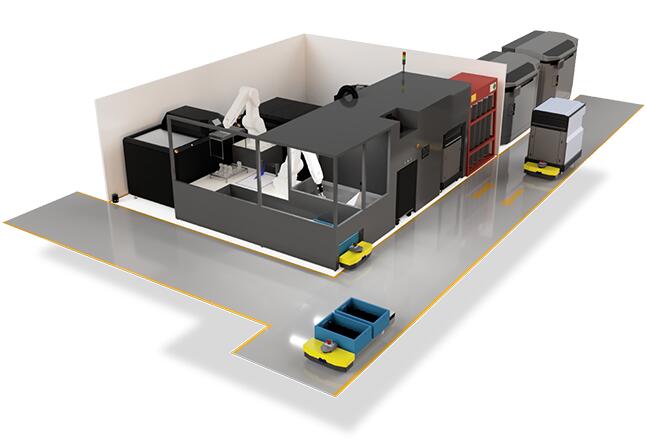 Image via DEVELOP3D
The UK's finest automated post-processing company made a big splash at the event with some common sense thinking ("There's no point in building these shapes if you can't post process them") without ever giving away any of its secrets.
One of the biggest beneficiaries of everyone's rush to ramp up scaled production, AMT's tech is customised and scaled to every customer's needs and existing 3D printing processes. The aim is to enable 3D printing to move towards the constant production of traditional manufacturing and out of the batch jobs that 3D printing currently finds itself doing.
The bit we were most interested by was AMT's claims that it can add extra functionality to parts through its post processing, adding yet another string to 3D printing's bow.
Makerbot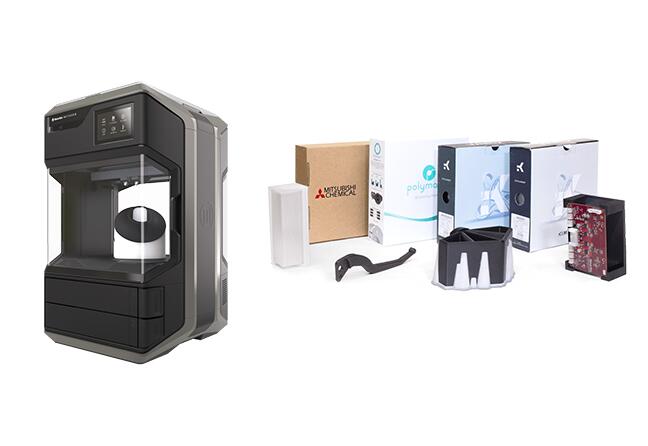 Image via DEVELOP3D
The MakerBot Method has been well received since its launch, but the company has gone even further with the Method X, adding real ABS, ASA and Nylon materials to its range.
Yet the real news at Formnext was that it is 'opening up' its materials development to all comers, which should see the platform's versatility grow even further.
MakerBot Labs essentially unlocks the Method X, straps on a new print head, and once new materials have been certified by MakerBot, then users will really be able to push what it's capable of.
Paramatters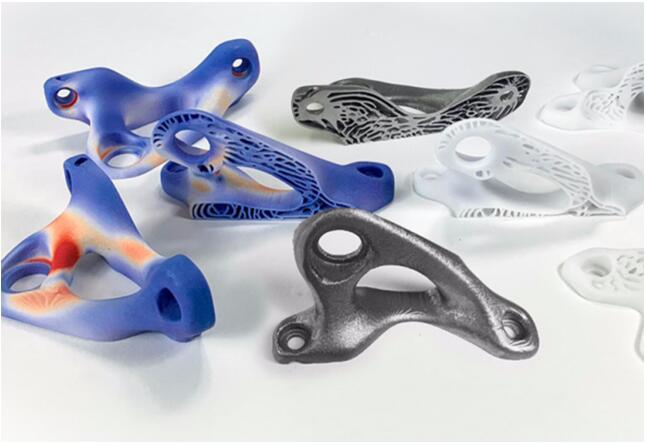 Image via DEVELOP3D
Finally shipping units, the CogniCAD 2.1 topology optimiser from Paramatters has probably the simplest set-up process going, while the results come in very, very fast and can be exported seamlessly into CAD.
It looks great, with a paired-back UI, it makes use of its cloud-based AI produce 3D printed and investment cast parts, automatically including stress, stiffness and deformation constraints, it can also add thermal loads to the model.
It's currently available as a pay-per-design, cloud-based service, and is still being heavily developed – with Paramatters fielding new requests from attendees on the stand – but it's probably worth throwing a challenge at early in 2020 to see what it can do for you.
Solvay + Ultimaker + Roboze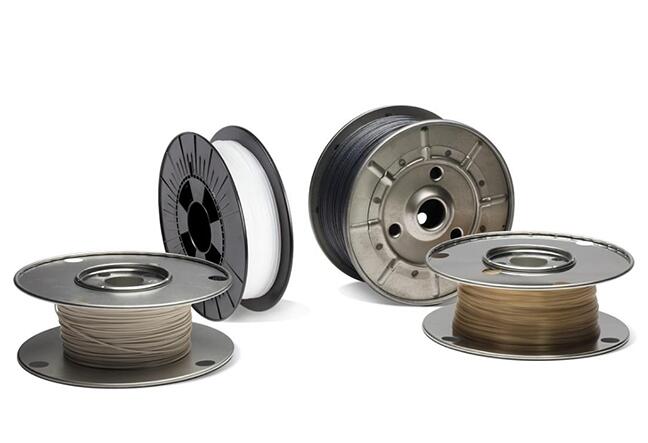 Image via DEVELOP3D
Solvay has put together some speciality filaments for 3D printers – PPEK, carbon-filled-PEEK, PPSU, PVDF – and they're now certified for use on a machine as readily available as an Ultimaker.
Much like the MakerBot news, the pro-desktop 3D printing market continues to develop at pace – letting designers and engineers print really functional parts in end-use materials, before scaling-up in size or volume.
Additionally, Solvay is supplying Roboze, which is all about printing such technical materials at scale with amazing end products, with its range of Argo 3D printers now giving Stratasys' Fortus machines a run for their money.
Spee3D
Image via DEVELOP3D
Not since we stood at the HQ of Carbon have we witnessed an additive manufactured part physically emerge before our eyes – until we visited Spee3D. Only this time the parts are built from metal.
Yep: copper and aluminium.
It's a bonkers concept from Australia that uses high pressure air to blasts powdered material with such force that the resultant heat bonds it together, while the build plate dances around on the end of a robotic arm (see right).
The near-net-shape part – in this case a copper hammer head – was built in 7 minutes flat, pulled-off the build plate and machined to final dimensions on a standard 3-axis mill in a further couple of minutes.
Given the ballache of 3D printing copper efficiently, this was a truly exciting piece of technology.
Velo3D + Stratasys Direct Manufacturing
Image via DEVELOP3D
Velo3D says that SDM began testing its Assure quality assurance and control system software for 3D metal printing software soon after they took delivery of its Sapphire 3D printer earlier this year, and now have become its first customer.
SDM don't mess about when it comes to churning out parts, so its interesting to see a public announcement such as this, given the industry shift towards mass manufacturing.
Velo3D's hardware is one that we're keeping a close eye-on, so to see its software also get a seal of approval has us expecting even more from them in 2020.

 C+
EOS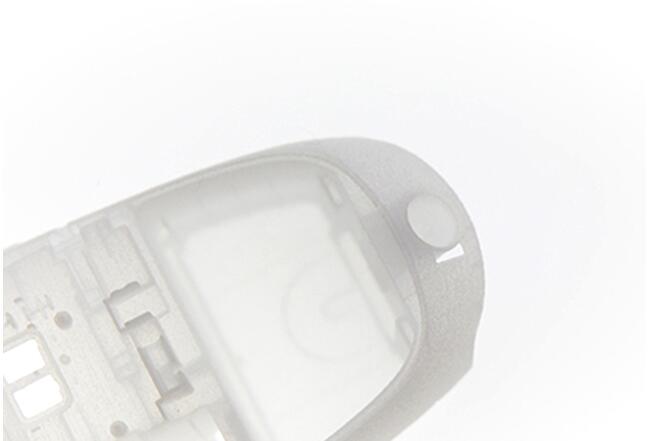 Image via DEVELOP3D
The big German brand launched its Fine Detail Resolution (FDR) technology for processing polymers, which unlike the existing EOS product range, uses a 50-watt CO laser.
This laser type creates an ultra-fine laser beam with a focus diameter that is only half the size of current SLS technologies – meaning wall thicknesses of 0.22 mm are possible.
At the other end of the scale its LaserProFusion technology firing-up 1 million diode lasers with a maximum accumulated laser power of over 5 kilowatts, for maximum productivity, gives EOS' range of polymer 3D printing solutions some extra versatility.
Freemelt One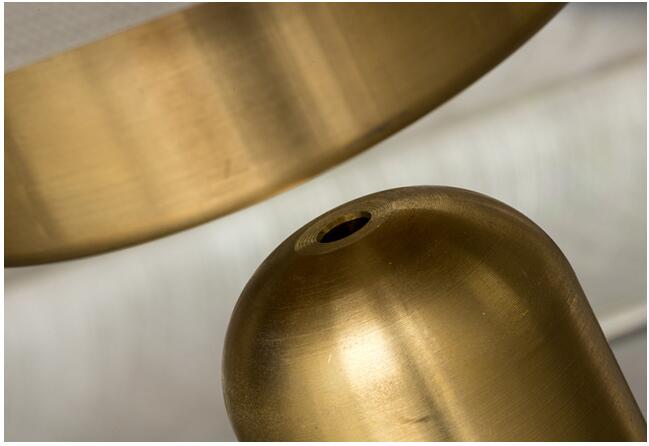 Image via DEVELOP3D
A curious little booth at the show, Freemelt has developed an entry-level Electron Beam Melting (EBM) 3D printer for tasks like testing and developing materials.
They bill the Freemelt One as a machine 'designed for metals not yet known to mankind' – with a 6 kW diode electron gun for fast processing and very high powder bed temperatures (>1200 °C), its small 70 litre vacuum chamber and powder feeding system allows builds even with small powder quantities. Additionally, its software is completely open source.
EBM is one of the more interesting processes when it comes to materials – being less reflective than lasers – and costing much less than a GE Arcam machine, this presents the chance to try it out for novel material development.
Xerox
Image via DEVELOP3D
Back in February, Xerox acquired Vader Systems and its Liquid Metal 3D printing technology and hasn't stopped developing it since.
The machine popped up in its new housing, looking particularly smart, but it was what was inside that got our attention.
Xerox has been working hard to develop its own AI driven software, which although only focussing on the Liquid Metal printer, looked particularly good – running through from part design and costing through to production and performance analysis.
Having seen how HP exploded into the industry and quickly expanded, it wouldn't be a surprise to see Xerox topping our list next year.

 C
BASF + Sculpteo
Image via DEVELOP3D
Keen to make greater bounds into additive manufacturing, materials provider BASF has just bought itself a new customer base by acquiring online 3D printing bureau Sculpteo.
It's a great bit of logic, given that it should allow BASF to scale up its materials production and make the process more cost effective.
It's good news for Sculpteo too, as BASF has said it will develop the existing Sculpteo 3D printing platform further into a global network.
ExOne
Image via DEVELOP3D
ExOne's new metals 3D printer, the X1 160 Pro, saw its launch, taking the company's patented Triple ACT tech and scaling it up to what the company is claiming is 2.5-times the build volume of competing systems out there currently.
How big is that? 800 x 500 x 400 mm, building at a massive 10,000 cm3/hour depending on the print material.
It grows the company's metals 3D printing options, and given the demand for bigger parts and build volumes, we doubt that they'll stop there.
GE – Spectra L and Copper
Image via DEVELOP3D
GE are no stranger to building big metals 3D printers, but its Spectra L EBM 3D printer was the one that caught our eye this year.
With a giant Ø350x430mm build chamber, it features 4.5 kW beam power which increases build speed by 20 per cent over the Arcam EBM Q20plus.
As well as being able to produce parts in various grades of titanium alloys, it will add support for building in pure copper next year – meaning there was a lot of interest from attendees.
Renishaw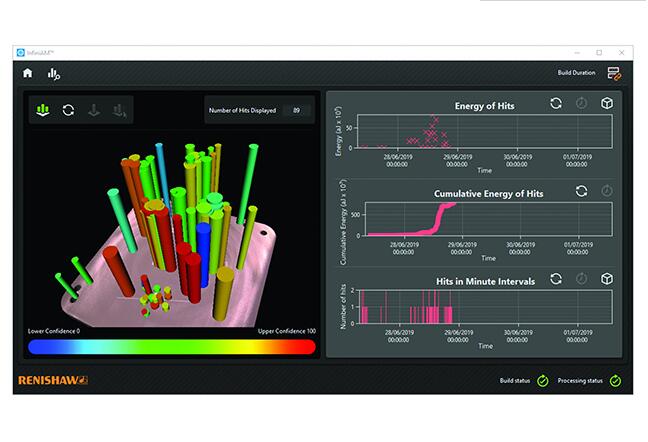 Image via DEVELOP3D
Not just producing some of the best metals 3D printers around, Renishaw also put out some rather trick bits of software for its machines, and the launch of Sonic is one of its latest.
A new acoustic process monitoring software for its 3D Printing, it allows engineers to detect acoustic events within the build chamber and turn it into data that can help improve build quality.
Part of the company'Ds InfiniAM suite, the Sonic package includes four acoustic energy sensors to detect vibration in the build, which can be installed into any Renishaw machine.
Sisma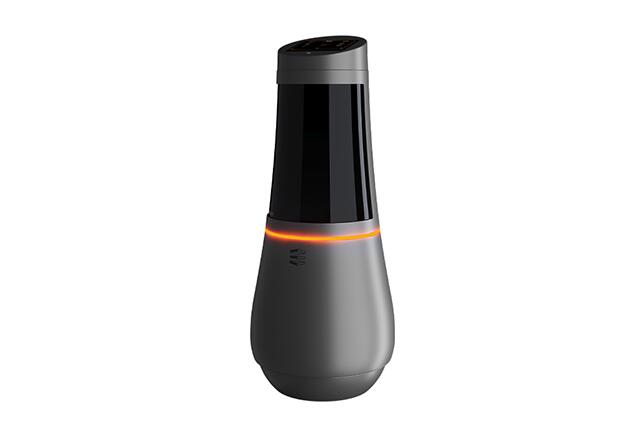 Image via DEVELOP3D
The Italian company's move into Polymers with its Everes DLP 3D printer was one of our favourite finds of last year's event.
We've not seen much of them out in the wild yet, probably due to Sisma's small sales channel in the UK, but the larger format Everes Vario keeps the smart functionality of its desktop counterpart, all while adding variables to the build zone and speed, to improve build times.
In its more familiar metals territory, it launched a new machine, the Evemet 200, but more interesting was the automated build tray swap out it had added to one of its Mysint machines – allowing for double the output on the same build space, with the arm used to swap the plates generatively designed and built in-house using their own machines.

 Do
3D Systems – No major launches, but talk of its software arm exploring new avenues, and leveraging its medical experience, to better solve issues with generative design and organic shapes
3T – Formerly 3Trpd, the rebrand has come as the company celebrates 20 years in the industry, and sets its sights on the growing world of mass production with additive manufacturing
Carbon – The L1 3D printer – used by the likes of Adidas – was made available to anyone willing to part with the $250k per year subscription fee
Dremel – Bosch's brand for 'crafts' still has a heavy education-sector presence with pro abilities. A forthcoming laser cutter and its desktop FDM 3D printers getting plaudits from the pro sector for their reliability and repeatability
Markforged – The handbrake has been removed on its X7 printer, doubling the print speed, while a partnership with MSC Software means Markforged users can access digital material cards that capture the mechanical and material properties of fibre-filled parts
Materialise – Magics 24 added Support Transfer, Support Transparency and faster nesting options to its flagship software
Oerlikon + Hirtenberger – Swiss manufacturing experts Oerlikon are to collaborate with Hirtenberger Engineered Surfaces to further industrialise its post processing technology that we first saw last year
Siemens – The acquisition of Atlas, developers of cloud-based Sunata software, means that customers will be able to harness GPU power for print optimisation and support generation on direct metal laser sintering (DMLS) 3D printers
Stratasys – The launch of its flagship, multi-materials J850 3D printer and the addition of GrabCAD Shop are all natural progressions in a quiet year for the brand
XJet – All is well as the company announced a Nobel Prize-winning addition to its materials staff, and formerly launched the separate form models for its metal and ceramics nanoparticle 3D printers
Source: DEVELOP3D