Oerlikon And Hirtenberger Engineered Surfaces Collaborate to Accelerate Industrialization of AM Parts
Formnext, Frankfurt am Main, Germany – November 22, 2019 – Oerlikon AM, the additive manufacturing unit of global technology group Oerlikon, and Hirtenberger Engineered Services have entered into a strategic alliance to further industrialize series production and prototyped parts.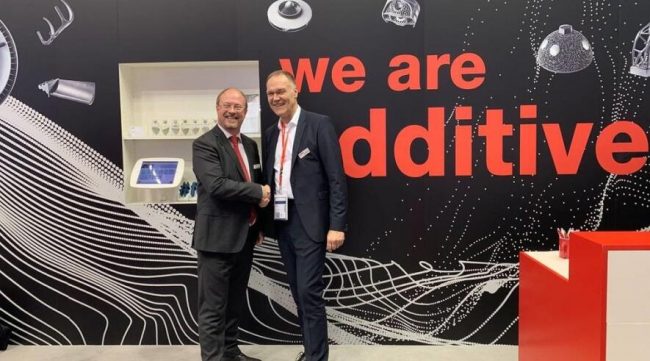 From left to right: Dr. Wolfgang Hansal, Managing Director, Hirtenberger Engineered Surfaces and Dr. Sven Hicken, Oerlikon, Head of Additive Manufacturing Business Unit. Image via Oerlikon.
Oerlikon AM and Hirtenberger began working together early this year to evaluate the Hirtisation Process, a post-processing technology for additive manufacturing that allows three-dimensional surface treatment, including the removal of support structures and automatization of the post-processing steps. Oerlikon AM is part of Oerlikon's surface solutions business.
The Hirtisation Process is now proven to allow parts to be made that were previously unrealizable. With this knowledge, the two companies are intensifying their collaboration and have created a joint working group to explore how the process can be integrated into the AM value chain. The new process results in smoother surface textures. It also allows for the production of complex parts that require interior support structures during production, but which need those structures removed after completion, without impacting the integrity of the part.
The industries that can benefit most from this collaboration are those with complex parts, such as turbomachinery, oil and gas, automotive and general industry. Oerlikon AM will apply the technology in those industries first to help customers reduce part costs and achieve predicable and repeatable results.
Additionally, Oerlikon AM and Hirtenberger Engineered Surfaces are working on applying the Hirtisation Process to the prototyping business, which is expected to improve productivity by eliminating extra finishing steps.
"For Oerlikon AM, the Hirtisation Process addresses one of AM's major challenges, which is to provide our customers with parts with more complex geometries – some of which are not possible nor economical with existing AM and post-processing technologies," said Dr. Christian Haecker, Head of Oerlikon AM Industrialization. "The process fits perfectly in our desire to offer customers services and products along the entire value chain. We also see a benefit in increasing repeatability of defined AM surface quality."
"We provide a crucial step in the process chain of 3D printing of metal parts," said Dr. Wolfgang Hansal, Managing Director, Hirtenberger Engineered Surfaces. "We see ourselves as an industrial enabler of automated surface finishing. We maintain the full freedom of the printed parts design, while allowing cost efficient post-processing. Closing the interfaces along the production chain from post-processing back to construction, design and printing is key for the establishment of reliable additive manufacturing, from prototyping to large quantity serial production. For these reasons, Oerlikon AM is an important partner."
The two companies intend to bring this technology jointly to the North American market in 2020.
Both companies are participating in Formnext. Oerlikon's booth is in Hall 12.1, Booth B01. Hirtenberger Engineered Surfaces' booth is in Hall 11.0, Booth E11.
Source: Oerlikon