Behind The Breakthrough: Getting to Push-To-Print for Additive Manufacturing
Imagine printing any metal part with the push of a button. This capability would change so much; repair shops could whip up on-the-spot replacement parts for vehicles of all shapes and sizes, from small cars to oversized cargo ships. GE Research is bringing us closer to that reality in a four-year, $9 million program awarded by the Office of Naval Research (ONR) to develop a rapid process for creating digital models of replacement or newly designed parts.
Metal additive manufacturing is revolutionizing many sectors of industrial manufacturing by reducing component lead time, cost, material waste, and energy usage. The U.S. Navy is interested in using additive to enable new designs with complex shapes and to replicate parts for older ships that are no longer manufactured.
Partnering with Lawrence Livermore National Lab, America Makes, Penn State University, the Naval Nuclear Lab, and Honeywell, GE Research is working to ensure that printed parts meet the precise quality needed to operate in the naval environment. In today's world, an additively printed part must go through multiple development cycles to ensure they meet specifications—an operation that can be onerous in time, money, and manpower. But by introducing digital models and sensors into the additive machine, smarter controls will provide accurate in-process assessments, dramatically speeding up the qualification for replicating and printing replacement parts.

 Accomplishing this is one important step to enable push-to-print additive manufacturing.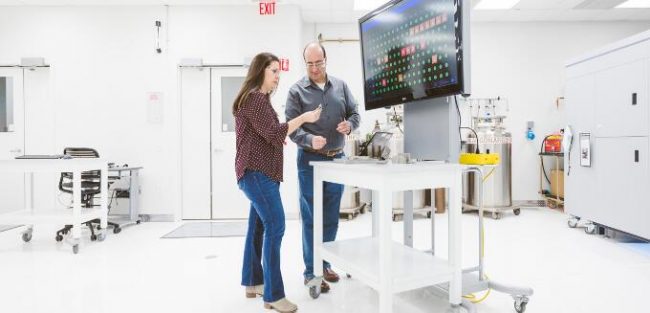 Tailoring the processing of the metal powder in additive manufacturing is crucial to reducing development cycle times. As a part is being built, changes can occur in the local processing due to a complex feature or shape. These changes can be accommodated so long as they are planned for in advance. One way to accomplish this is to develop a set of tools that evaluates the performance of the machine and provides guidance on what should be happening and what can be done to correct potential issues.
In the past year, scientists from GE Research have incorporated game-changing sensors that read temperatures ranging from 100°C to 1500°C at rapid acquisition rates. This allows users to visualize and analyze how the heating, melting, and cooling by the laser is progressing in the machine. Researchers can then use this information to better understand the material they are working with.
Justin Gambone, senior engineer at GE Research and principal investigator of the project, leads the cross-business effort and assuring the program's technical progress. "We've been gaining better insight into our model behaviors and characteristics that describe the additive process and since we've started instrumenting our machines with in-situ sensors, we've been able to find new ways of looking at the process of production machines."
There is still much to be learned in the additive industry. It's been a difficult process adapting to the lack of software and hardware access points in an already matured machine, but GE Research is uniquely positioned to bridge the gap between innovation and production.
"We are directly connected to long-term research ideation and a forward-looking development mentality while also being linked to additive use in products due to our relationships with GE Aviation, GE Power, and other GE businesses," shared Gambone. "In our partnership with national labs, we are starting to pull their far-reaching technical development into something that can realistically start going into real production level processing."
Metal additive is on the cusp of breaking through industries, but there is still a difficult tradeoff between its new capabilities and the cost of adoption, development, and production use.
"Moving forward, we need to reduce the cost of qualification and development of additive as well as reduce the cycle time for new part development to enable new industries to move into this revolutionary area," shared Gambone. "Our material behavior learnings in relation to industrial systems in the ONR Informed Quality program propels GE Research's mentality and efforts to implement push-to-print."
Source: GE